Google has launched its new Performance max campaign format. How it works, advantages and disadvantages, tips for maximizing results. I had the opportunity to present a conference at the SAS22 in Aix en Provence. I'll come back to all the details in this article.

Here is the video presentation:
PPT support,
Be visible on all Google levers with just 1 campaign
Today, before making a purchase, a web surfer will carry out various searches: review sites, comparison sites, test videos, competitor sites, etc.... This poses a problem for companies for two reasons:
The first is that it's not always easy to understand these behaviors, and even less so to adapt the messages and targeting of your advertising campaigns to gain in relevance and therefore in conversion rates.
The second reason is budgetary: assuming a company has the technical and intellectual resources to anticipate and adapt to these difficulties, it's still necessary to have a significant volume of traffic before being able to create niche audiences eligible for Google Ads. (for example, people who have viewed a video on your site).


To address these issues, Google is introducing Performances Max campaigns in 2022. These are special campaigns on three levels:
From a single campaign, you can broadcast to all Google Ads inventory (YouTube, Display, Search, Maps, Discover, Shopping).
This campaign is 100% SMART, which means that we have no control over bids, broadcast locations, targeting or ANYTHING else. It's all managed by Google's algo, a bit like the Google Ads Demand Gen which will replace Discovery campaigns from the end of 2023.
Black box: At the outset, it was impossible to analyze every single KPI. Technically, we knew what we were inputting, we knew the output results, but Google didn't give us the detailed campaign KPIs. However, this is now over since September 2023, following an update in which Google undertook to add performance details for each group of elements.

Google's Performance Max campaigns have 3 objectives:

Find new audiences who convert.
And it's easy to see why. By broadening distribution locations, Google facilitates access to often under-exploited platforms such as YouTube, so it's likely that some people previously not targeted by campaigns because they were not or less present on more "classic" networks such as the Google search network will now be within the scope of corporate campaigns. Also, since performance max campaigns are 100 % AI-based, they don't let themselves be biased by the psychological biases that marketers can sometimes have when defining the target personas for their products and services. By focusing solely on conversions and automatically optimizing itself, this campaign will be able to find new audiences thanks to its wide distribution spectrum, and allocate them a level of expenditure proportional to their level of profitability.

Increase ad relevance.
Since the points of contact in the purchasing process are multiplying, it's logical that the advertising message should be adapted according to the target's level of interest. You don't talk in the same way to someone who's ready to get out their credit card, as opposed to someone who's just discovered the nature of their problem and is starting to look for solutions. Google ads' performance max campaigns offer higher message relevance than traditional campaigns, because Google automatically personalizes the message for each surfer.

Enrich audience reports.
It's a general trend on Google's part to provide "macro-marketing" reports (called Insights), which are interesting in the context of enriching overall marketing strategy (helping to specify customer avatars, helping to understand which messages and media are the most relevant). However, the appearance of these reports comes at the same time as the gradual disappearance of campaign "micro-data" reports (click-through rate, keywords, impressions, conversions etc.) enabling fine-tuned campaign optimization.


Performance Max under the microscope
Campaign objectives
As their name suggests, Max performance campaigns are here to deliver results. They are therefore only eligible for the following conversion objectives:
- Sales
- Prospects
- Website traffic
- Promotion and store visits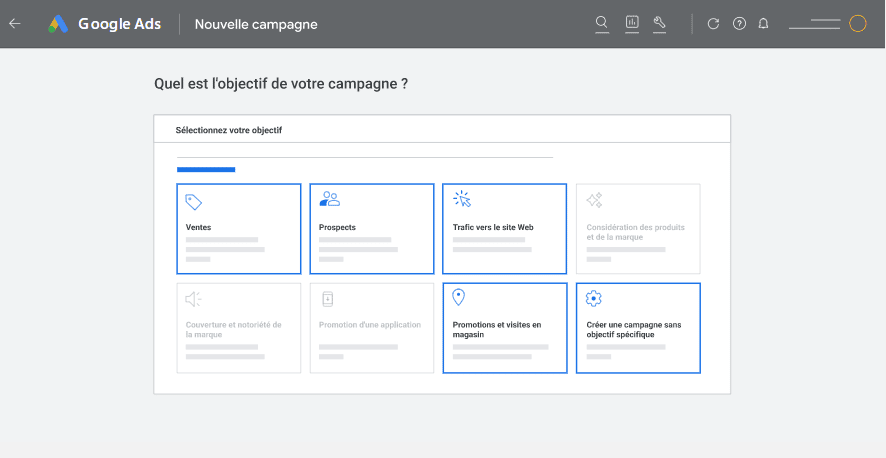 Bidding strategies
When you access the campaign, Google will ask you to choose the bidding strategy you prefer. Here we can see that Google has chosen to offer only two bidding strategies:
- Maximize conversion value, mainly for e-commerce.
- Maximize conversion volume, rather than lead gen.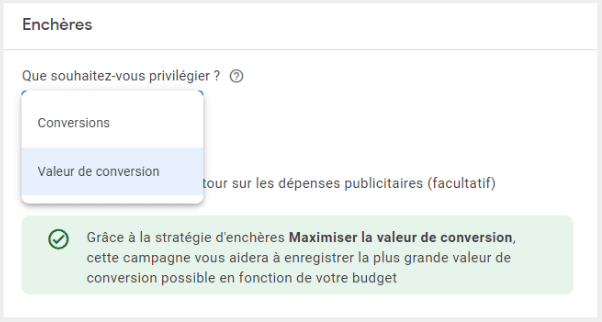 Element groups
Once you've made your main settings, you'll be prompted to create an element group. Element groups replace ad groups. They're like huge bags into which you'll place your ingredients (photos, images, videos, text, descriptions, etc.). Google will then draw, mix and create ads adapted to the different platforms in its broadcast inventory. These groups of elements are in some ways reminiscent of the automatic ad groups already present in certain campaigns. They are simply richer, and therefore better adapted to the multitude of delivery media used in PMax campaigns.

You can choose to create a single or multiple groups of elements in a Performance Max campaign.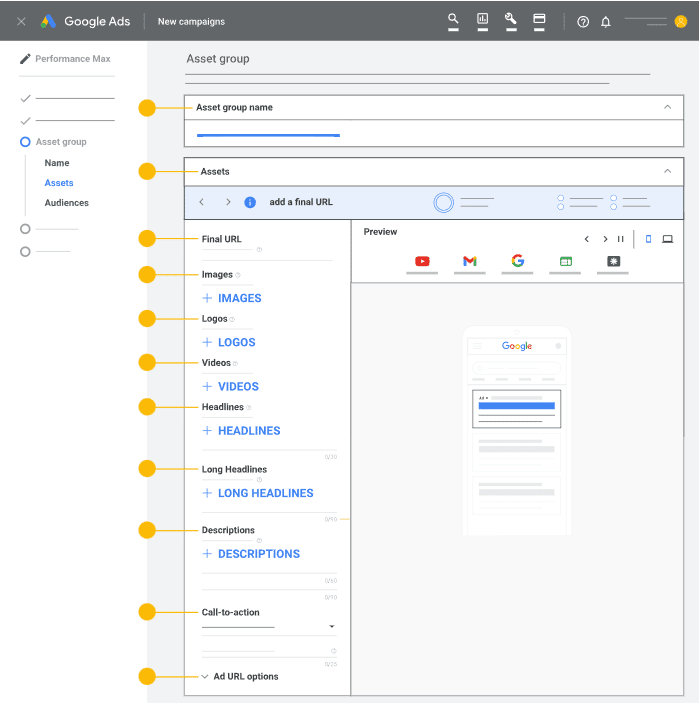 All in all, here's what you can enter:
- A final URL
- 20 images
- 5 logos
- 5 videos (Google automatically creates one based on your photos if you don't have any)
- Up to 5 short text titles (30 characters)
- Up to 5 long text titles (90 characters)
- 1 short text description (60 characters)
- Up to 5 text descriptions (90 characters)
- Your company name
- A call to action (either defined or automatic)

That's a lot of possibilities when combined! Not to mention all the ad extensions also available:
- additional links
- hook
- site extract
- call
- send form
- price
- promotion

/!\ Pay close attention to these 3 elements!


The final URL
This is the destination URL for your element group, i.e. the page on which Internet users will land. It must therefore be a well-optimized page for conversions. It's also this URL that will determine the keywords on which Google will display your ads on the Search network. As we said earlier, Performance Max is 100% automatic, so you don't even choose the keywords you want to be displayed on: the final URL will be crawled by Google and analyzed, and it will then determine which keywords are relevant to bring you up in Search.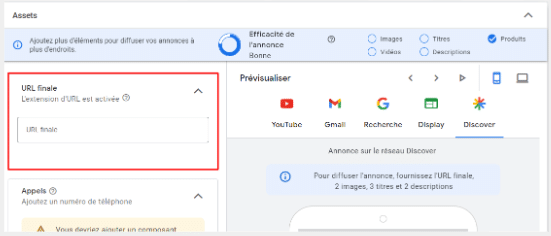 Signals (e.g. audience signal)
Audience signals are an aid to guide the algorithm in launching the campaign. It's not a targeting method. You give Google a clue to get started on "who are the people likely to be interested in your products", and the campaign then optimizes itself according to the conversions obtained.
Audience signals are made up of different types of input:
- Custom segments
- Your data
- Interests
- Detailed demographic data
- Demographics

Audience signals are decisive in the initial targeting of your campaign on the Display, YouTube and Discover networks.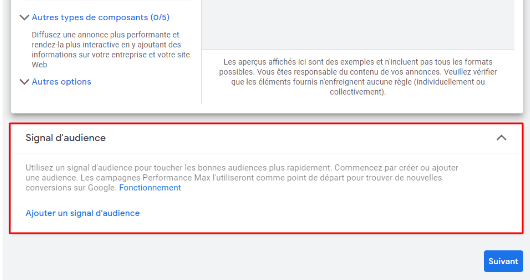 Since September 2023, Google has also added the possibility of providing up to 25 search terms per group of items to help tease the algorithm.


Card groups
This option is only available if you have associated a Google Merchant Center account with your Google Ads account. Item groups are the Shopping products you wish to associate with your ad group. This is the element that will determine which ad group will be shown on Google Shopping, and which products will be eligible.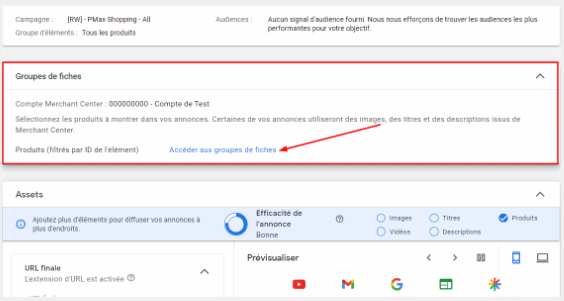 Advantages & disadvantages of Performance Max
The benefits
● Simple In campaign editing (filling in the element group correctly can take a little time, but once it's done, Google takes care of combining everything), as well as in campaign management (once launched, PMax campaigns require and allow very few adjustments).

● Multichannel You're visible on all Google inventory from a single campaign. Before, you had to create and manage campaigns on Search, Youtube, the Display channel, etc., all separately.

● Performance We could sum it up in an equation: A conversion-oriented algo + Large-scale distribution across the entire Google inventory + A personalized message for each surfer, adjusted according to his or her level of interest. On paper, we have everything we need to achieve "maximum performance".

● 360 degrees Performance Max campaigns perform both acquisition and remarketing, i.e. they seek to bring in new prospects and are likely to automatically retarget them if they have detected any interest in your product or service.

Disadvantages
● Uncontrollable The flip side of the "all-automatic" coin! Max performance campaigns are simply impossible to fine-tune. We have no control over bids, distribution locations, keywords, targeting and so on!

● Difficult to analyze :
In 2022: PMax is like a black box. We know what goes in, we know what comes out, but it's impossible to know what happened in between! Among other things, it's impossible to know exhaustively which locations we've been shown on, which keywords we've used, and which types of audience we've targeted. Also, Google Analytics reporting tables still (forever?) work very poorly with Performance Max - many columns are unavailable or "Not Provided".
Since 2023 note that this point is no longer as true since the September 2023 update in which Google gave the ability to analyze performance by ad group as well as a report on individual keywords.

● Requires historical data 100% AI-based campaigns mean data-based campaigns. This makes PMax campaigns bad campaigns to launch a Google Ads account. Also, more mature accounts that decide to add PMax to their campaign inventory usually have to go through a long learning period (allow 3 to 5 weeks), during which the campaign is relatively unstable and performance is sometimes poor. It's generally a pretty painful time for advertisers.
Performance Max campaigns are therefore prone to going haywire when relaunched after a break, such as the vacations. Even if there are certain techniques to limit damage.

● Cannibalizes other campaigns :
In 2022: Performance max campaigns seem to have a certain priority over other campaign typologies. As a result, it's quite common to see a PMax campaign "stealing" clicks from its neighbors.
This is a problem because, in addition to messing up the overall structure of the account, there's no control over the keywords or locations on which the campaign is broadcast. As a result, we sometimes find ourselves with a PMax campaign bidding in place of certain strategic campaigns that have been installed in the account for years, such as the "Brand" campaign, used to defend the company's brand against competitors who buy the keyword.
However, things can change: for example, Google has just added a modification to its website documentation... Keep an eye on this!


Since 2023: Google has finally added the ability to exclude your brand from max performance campaigns.


Should you migrate to Performance Max?
This is actually a non-issue, as Google automatically migrated all smart shopping campaigns (which ran on most e-commerce accounts) and local campaigns (those campaigns that displayed your business number and address on Google Maps) to Performance Max in the summer of 2022.

The word "migrated" is a bit of a misnomer for Google, as this is not a migration in the strict sense of the word.

In fact, Google has simply cut the historical campaigns and relaunched new campaigns with the Performance Max format, importing some of the settings from the historical campaigns. This is important, firstly, because it means that the learning curve for smart shopping or local campaigns cut by Google is lost - bad news, especially for large e-tailers with old and particularly well-trained campaigns. Secondly, because the settings imported from historical campaigns into the new Performance Max campaigns created are not always compatible with 100%, we sometimes end up with setting errors which, if not spotted quickly, can be costly.

The shift to PMax is therefore more or less inevitable for e-commerce accounts.

For lead gen-oriented accounts, however, which were not running shopping or local campaigns, the question does indeed arise:
In this second case, remember that PMax campaigns require a significant data history to function correctly. As a result, performance max campaigns should only be considered for lead-gen accounts with a properly configured conversion tracking system and sufficient historical data in search of scaling (broadcasting on a larger scale and taking advantage of Google's AI).


Performance Max: Tips, best practices and pitfalls to avoid
Account level
One of the main drawbacks of PMax campaigns is the lack of control over keywords, locations, targeting, etc. Although our scope for action is indeed extremely limited, here are two tips to keep some semblance of control over your account.

Exclude bad keywords
At this stage, there are no plans to allow advertisers to ban certain keywords from Performance Max campaigns. This poses a problem when you consider that these campaigns tend to cannibalize other campaigns by "stealing" the good clicks. However, it is possible to contact your Google account manager from the help section at the top right (symbolized by a "?") to ask him/her to associate an exclusion list of certain keywords to your Performance Max campaigns. This is a good opportunity to ask Google to exclude your brand and your competitors' brands (which you can then reprocess in dedicated campaigns with greater control over the message). Note that since 2023, the easiest way to exclude your brand from a Performance Max campaign is to use the "brand exclusion" module in the campaign parameters.
Note: Rumor has it that Google is planning to add the possibility of inserting up to 1,000 keywords to be excluded per Performance Max campaign in the near future, but no official communication has yet been made on the subject.
Exclude bad broadcast locations
There's a report tucked away in your Google Ads interface that lets you view the locations on which your Performance Max campaign has shown in display. The report can be found in Reports > Others > Location of Performance Max campaigns. This report perfectly illustrates Google's desire to progressively remove as much detail as possible from its campaigns, as you'll only be able to consult the name of the sites or applications on which you were displayed, as well as the volume of impressions. In other words, you have no commercial data, and it's impossible to know whether the site in question generated clicks, or whether these clicks generated conversions on your website.
However, this report can be consulted for brand safety purposes, and if you do so, you're sure to come across some (un)pleasant surprises, such as this e-commerce clothing store being displayed on mobile games like Candy Crush or Solitaire.


To exclude irrelevant locations (web & apps), you can add a Location Exclusion List to your Google Ads account from the Tools and Settings > Location exclusion lists
Your account will be prohibited from bidding on this type of site (including max performance campaigns).

Campaigns
When editing your Performance Max campaigns, there are a few points to bear in mind.

Beware of default geographic targeting
When creating your campaign, Google asks you to target a geographical area (by default, otherwise it's the whole world ????). All right, so select your zone, but be careful: the edit menu doesn't offer access to the " Geographic targeting options" . These options allow you to determine whether the people you're targeting need to be physically present in the area you're targeting, or whether simply taking an interest in the area in question (for example, as part of a vacation) is sufficient.
And of course... The default option is "Find it or be interested in it"! (underlined in red on the screenshot).
The only way to access this menu to check "Presence only" (in blue on the screenshot), is to validate your campaign and then return to the settings.

Don't be fooled by the risk of having your campaigns broadcast in non-targeted areas, sometimes in large quantities!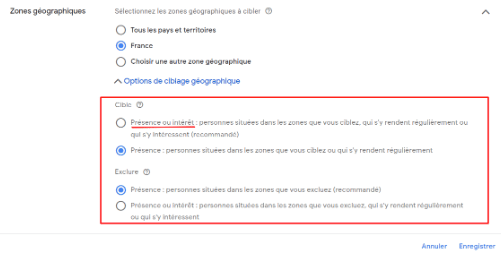 Watch out for the "Acquire new customers" option
This option lets you optimize your Performance max campaigns for new customer acquisition. There are two possible options:

Option 1Google will add a fictitious value to the conversion when the customer is new. In this case, for example, if you determine that this fictitious value is €20, when a €100 product is purchased, Google will count €100 for a repeat customer and €120 for a new customer. As your campaign algorithm optimizes to maximize conversion value, Google will naturally bid more aggressively on potential higher-value conversions, i.e. new customers.

Option 2Google will only bid on new customers, ignoring repeat business.

Note: To enable Google to sort out new vs. returning customers, you need to send Google a list of your customers in the database.

Although in some acquisition strategies it is perfectly appropriate to use this setting, care must be taken when using theOption 1.
This option adds a fictitious value to your conversions, so if we go back to our previous example, the sale of a product at €100 to a new customer would trigger the recording of a conversion worth €120. Most advertisers who measure the value of their conversions use the Target ROAS (Return on Advertising Investment) bidding strategy, i.e. if your Target ROAS is 6, you ask Google to generate a conversion value of €6 for every €1 invested in advertising.
The risk withOption 1 is that if it's activated, the conversion value will increase fictitiously, but Google's Target ROAS will remain unchanged, which means you're allowing it to perform less well than it did initially (your conversion value being artificially boosted).

So remember to also raise your target ROAS proportionally if you activate this setting!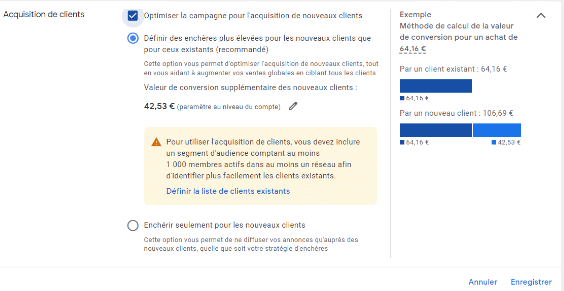 Watch out for the "Final URL extensions" option
Remember that in the element group you have to enter the URL of the destination page, which will determine the keywords on which you'll be positioned on the Search network, as well as the page to which Internet users will be redirected? Well, there's a setting that's also activated by default in the campaign parameters that allows Google to ignore the URL you've entered and let it determine which pages are the most relevant.

So if this extension is activated (and it is by default), your Performance Max campaign will use all the pages of your website to determine relevant keywords and redirect visitors, including the blog, contact pages, terms and conditions, etc... You end up with a completely unstructured account and (above all) completely crazy Ads, like this customer who was positioned in Ads on his FAQ page before our intervention.


How do I use this option correctly?
If your aim is to send traffic to a single, specific URL, for example if you sell a service and have a sales page for it. In this case, you need to disable this option and enter the URL in the element group. With the option disabled, Google will take it into account.

If, on the other hand, you wish to send traffic from this campaign to several pages (the whole site, or a product category, for example), then leave the option activated and exclude all unwanted pages from the campaign.
For a campaign targeting the whole site, the URLs to exclude will mainly be the blog pages, GTC, legal notices, contact page etc...
For a campaign targeting a category, you'll also need to add product pages not belonging to the targeted category.

URL exclusion is performed using the Exclude URLs located just below the Final URL extension: Enabled in the additional campaign parameters.

To date, you can choose to exclude pages one by one by adding URLs (not very practical on sites with a catalog containing thousands of references), or create an exclusion rule for "All URLs containing the word [your word]". This second tool allows you to exclude URLs en masse, but remains very limited. We're waiting for new possibilities, such as "Keep only URLs containing the word [your word]", which would be much more practical.
Go further in campaign analysis
Google Ads reports for PMax campaigns are extremely light. On the Google Analytics side, there's an enormous amount of data not provided (not communicated) and the reports do not appear to be designed to accommodate reports from PMax activities.
However, here are a few useful tips for analyzing campaigns or using them to enrich your marketing strategy.
Best combinations" report
As you'll recall, when we create a Performance Max campaign, Google asks us to set up a group of elements. This group of elements is made up of images, titles, video descriptions, etc. Google then combines these different elements and carries out tests on its entire inventory.
A report is available for viewing the best combinations of elements (or assets). This report can be found in Element groups > Show details > Combinations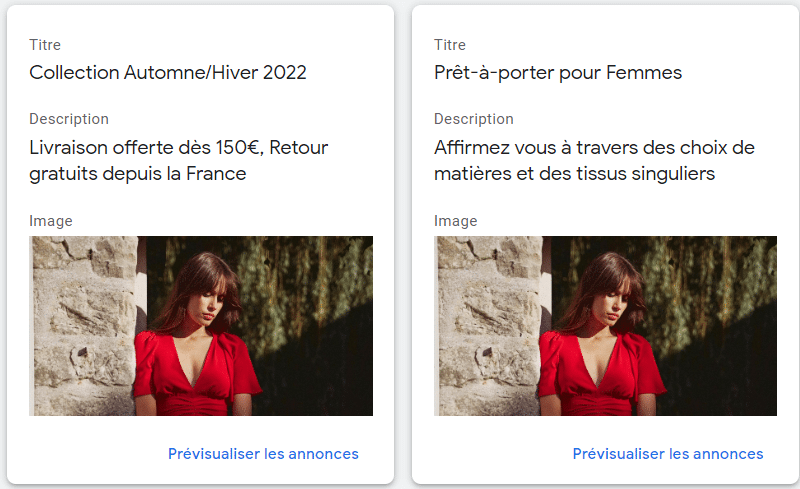 Unfortunately, this report cannot be used to block bad combinations, but it can be useful for :
- Improve the copywriting of your pages and ads by drawing inspiration from the elements that work best.
- Direct the artistic direction of videos and images.
User type" report
As we've seen, Performance Max does both acquisition and remarketing. It's possible to use Google Analytics to check how many new and old users are being targeted, to ensure that the campaign isn't taking the "easy way out" by simply recycling.
This report can be found in Google Analytics (Universal). Audience > Behavior > New/recognized visitors
Then simply apply an advanced filter to display only the PMax campaign you want.
In my example below, we can see that the acquisition vs remarketing ratio is 2/3 - 1/3. We can also see that, on average, Google brings back the people it retargets 2 times.


Landing page" report
Still using Google Analytics, and applying the same filtering rules, you can analyze the performance of each landing page. This is particularly useful when you choose to send traffic to several URLs within a single PMax campaign, as the information is not available in the Google Ads reports. With the help of this table, it's possible to understand which pages are the most profitable to target and, conversely, which to exclude from the campaign or possibly reposition in a more relevant campaign.
The report can be found in google Analytics (Universal). Behavior > Site content > Destination pages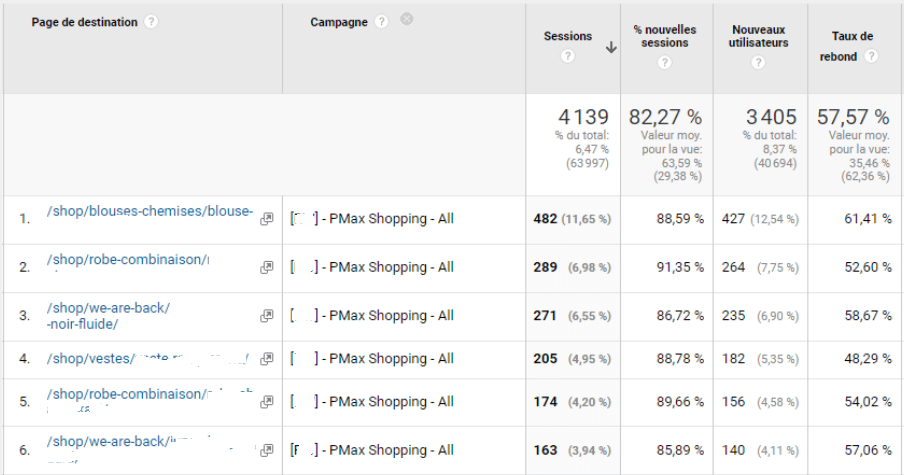 Successful Performance Max e-commerce campaigns
Contrary to popular belief, performance max campaigns can be a big job in e-commerce. Let's take a look at how to set them up correctly.
Account structure
There are many different ways to structure an e-commerce account using PMax campaigns. Here are a few examples.
Important reminder In all cases, we recommend having only one element group per campaign, as mentioned above, as Google does not provide performance reports by element group.
The easy, non-segmented method
The easiest account structure to set up is to create a campaign comprising the entire product catalog. Quick and easy to set up, it's a format that lets Google take care of 100%, and sometimes delivers good performance.
The disadvantage is that, since you're putting all the products together, the relevance of the ads is inevitably affected. So, when writing titles and descriptions, and importing images and videos, you're forced to mix and match. In terms of audience signals too, the targeted persona will be an "average of the site's customers".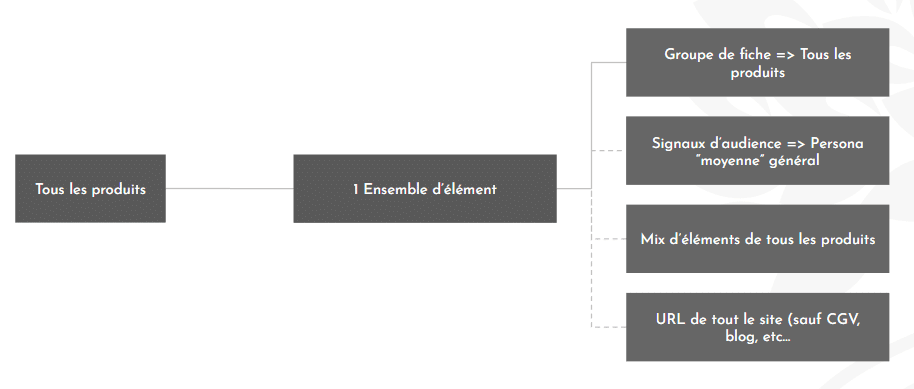 Segmentation by category
Another suggestion is to segment the catalog by product category. This is generally feasible, even if it requires more work. We're already taking a big step forward in terms of relevance, as each campaign will offer images, titles and descriptions dedicated to the product category. The people targeted will no longer be an average of the site, but rather an average of the customers in that particular category.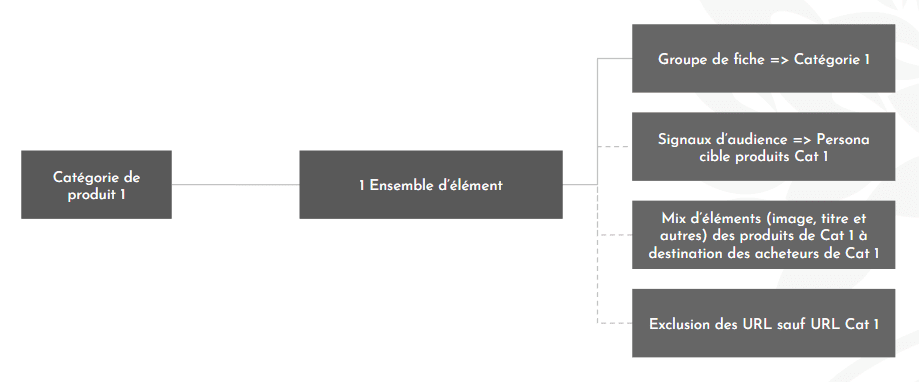 Product segmentation
The ideal in terms of relevance, for the same reasons, but often impossible to achieve as it would require too many campaigns. On the other hand, it's a format that makes sense for very small catalogs (1 to 10 products) with a sufficient overall budget on the account.
Broadcast in Shopping only
Good to know: If you don't enter an audience signal, an element (image, video, title, description, etc.) or a final URL... Only groups, your PMax campaign will broadcast to 100% in shopping.
This slightly more advanced and less well-known technique is very powerful.
It avoids problems of campaign cannibalization (in this case, shopping campaigns are handled separately, and search campaigns are managed directly separately, without PMax), and enables other, hitherto irrelevant segmentation, such as segmentation by profitability level or product performance.

General e-commerce campaign management
Which bidding strategy to choose?
Once you've confirmed that your conversion tracking is working properly (i.e. that purchases and their values are showing up in Google Ads), we recommend that you start your PMax campaign with the following bidding strategy Maximize conversion value.

PMax campaigns tend to be unstable in the first few weeks, a normal phenomenon linked to the various tests carried out by the algorithm.

Ideally, you should let the campaign learn without imposing any particular ROAS constraints. At the end of this period, you can switch to target ROAS.
Promote your best products
We recommend that you visit your local PMax campaign in the section card groups to view the performance of your products. Note that to display performance by product, you'll need to add a subdivision by clicking on the "+" icon that appears when you move the mouse over All products. You must select segmentation by ID.
Once you've done that, you'll have an overview of the performance of all your products. It depends on the sector and the budget, but generally we ban all products that don't generate sales after several hundred clicks (200-300) in order to capitalize on the best ones.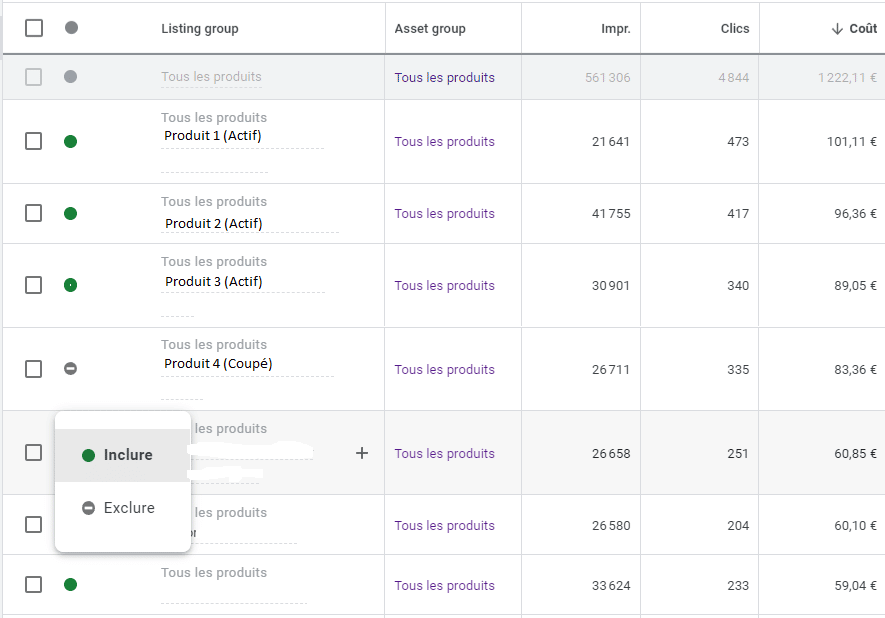 Successful Performance Max lead generation campaigns
Account structure
One PMax campaign per department
In lead gen, PMax campaigns are less present because we still have access to Search, Display and YouTube campaigns separately, so unlike e-commerce, we can choose to avoid them.
However, they can also deliver very good lead gen performance. The most relevant account structure is a one campaign per service approach.
This gives us maximum relevance, while maintaining a manageable structure on a human scale (the number of departments is generally limited).

General leadgen campaign management
Which bidding strategy to choose?
Once you've confirmed that your conversion tracking is working properly (i.e. that the forms you've sent are showing up in Google Ads), we recommend that you start your PMax campaign with the following bidding strategy Maximizing conversion.

Here too, PMax campaigns tend to be unstable in the first few weeks. So here too, we generally start with no constraints, to give the algorithm time to breathe, before considering a switch to Target CPA to seek better performance once the learning phase is over.
Connect a CRM to go further
Connecting your Google Ads account to a CRM (Hubspot, Zoho, Salesforce, etc.) enables you to optimize your campaigns even further.

In fact, when you send the conversion signal Form received There's no indication to Google that this form will lead to a real business opportunity. As a result, "bad forms" send the same signal of success to Google as "good forms" do, skewing its automatic optimization.

Connecting a CRM allows you to move from optimizing your campaigns for receiving forms to optimizing them for getting customers: When your CRM receives a new lead, it will notify Google, which will record a micro-conversion (intermediate conversion).
A little later, as the lead moves through the sales cycle, it will be sorted by your company's teams and lead to a unskilled lead or on the contrary a lead turned customer (I'm simplifying on purpose).

It's possible to send Google a conversion signal when the lead has become a customer, and Google will be able to associate this with the right campaign and refine its robot portrait of the "ideal form for your business".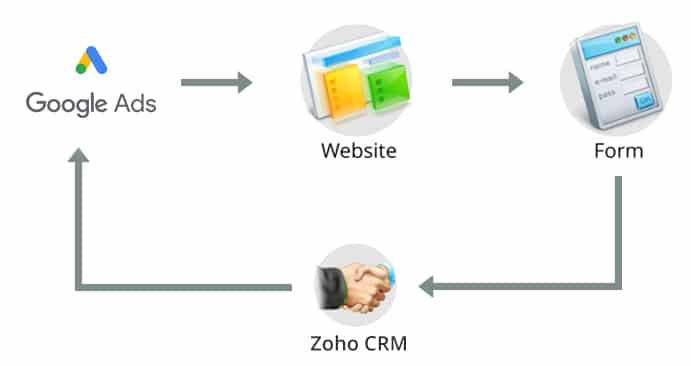 But that's not all!
When you say customer, you say... invoice! At this point, you can associate a monetary value with the transaction and consider optimizing your campaigns with the auction strategy. Maximize conversion value instead of Maximize conversions which adds an extra dimension of optimization to your campaigns.
Conclusion
Performance max campaigns are making their mark in e-commerce, and although they come with their share of flaws and questions, it's a campaign format that, according to our tests, delivers pretty good results. Clearly, these campaigns must become an integral part of new Google Ads strategies.

One thing's for sure: this new campaign format is in line with Google's increasingly marked commitment to "algorithmic everything", and reposition advertisers and consultants in a role that's more strategic (defining and enriching marketing strategy, personas, content) than technical/operational.

Is this really for the best, or simply in the unilateral interest of Google, which is understandably taking full advantage of this mix? Automatic bidding strategy + No more reporting + Full-automatic ads.

On the other hand, it's been a while since algorithms have surpassed human capabilities in a number of functionalities and areas of campaign optimization, so isn't it really time to let them work to bring us Max Performance?

The debate is on!

I'd like to thank you for taking the time to read this article, and I hope you found it interesting. If so, don't hesitate to subscribe to our free Mangrovea newsletter, which covers the latest Google & Social Ads topics.

If you have any questions about this article, I'll be happy to answer them in the comments section.

For any collaboration request, please contact us directly by phone or via the contact form on our website.